On this Thanksgiving I have a lot to be thankful for.  We made it home from Italy right before Hurricane Sandy and even though we are currently displaced we were able to secure our belongings and we have a home to return to once the necessary repairs are made.  Since my trip to Rome, Sorrento,  and the Amalfi Coast was a dream come true we wanted to relive the experience through the delicious food and wine we enjoyed.   I was recently sent some wine from Banfi  to sample and  it was perfect for recreating our trip.  Every day in Italy we had the most amazing tomatoes I have ever tasted accompanied by fresh mozzarella and prosciutto.  This was what I found waiting for me last night after work  and I decided to try the bottle of Col Di Sasso Cabernet Sauvignon & Sangiovese blend 2010 from Tuscany.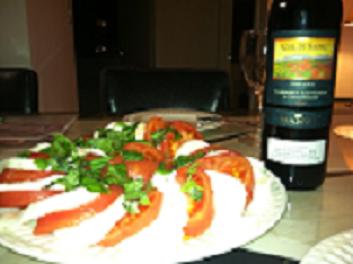 I was already familiar with some of the wines imported by Banfi Vinters as I have previously written about their Rosa Regale which is my all time favorite sparkling red wine.  We even purchased two bottles of it while we were in Sorrento to drink on the rooftop of our hotel.  We also ordered a bottle of their Brunello di Montalcino 2007 on the last night of our trip which was excellent!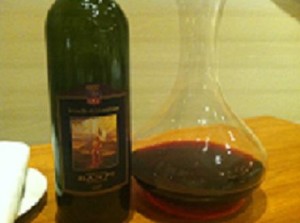 The Col Di Sasso which is produced in Tuscany is extremely similar in body to the wines we had on our trip.  It was very dark ruby in the glass awith an almost purple cast at the center.  We found the nose to have touches of black currant and blackberries.  There was a pleasant, soft cherry flavor with a slight earthiness to it.  Col Di Sasso is not very tannic at all and is 13% alcohol.  It is very smooth and it didn't compete with the acid in the tomatoes.  Even though I received this bottle for free it in no way influences  my review.  Everyone who tried it last night really enjoyed the wine and agreed how well it went with our food.  Even better is the value for the price.  Col Di Sasso can be found online for under $12 per bottle.  You can't beat that!
Banfi Vintners was founded in 1919 and is the oldest wine importer in the United States.  It is still run by the Mariani family out of their headquarters on the North Shore of Long Island.  They have a large portfolio of wines and they export to over 85 countries.  To learn more check out www.banfivintners.com