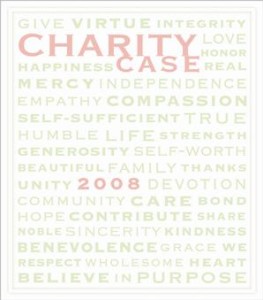 As a wine lover do you really need an additional reason to buy a bottle and pour your  next glass?  How about if you knew that the wine you were purchasing donated 100% of their proceeds to helping those in need?  Charity Case Wines is a Napa Valley foundation that has partnered with several wine producers in the area to create three different varietals to help raise money for local non-profit organizations.  All of the juice is donated and all labor involved with making these wines is provided by volunteers, thereby making it possible to give all monies raised to where it is needed.  The non-profits currently being supported by Charity Case include The Wolfe Center, a drug and alcohol treatment center for teens, Cope Family Center, Foster Kids Receiving Center, and Aldea Children and Family Services.
Charity Case Sauvignon Blanc 2009 is 100% Sauvignon Blanc and a deep gold color in the glass.  Aromas of pineapple and citrus give way to tropical flavors.  You can also taste the oak on the finish due to the fermentation in French oak barrels.  It is 14.1% alcohol and is a crisp reminder of summer at the beach in a glass.
Charity Case Rosé 2008 is a true collaboration using  juice from several top Napa Valley wineries.  It is also 14.1% alcohol and is fermented in French Oak barrels.  The color in the glass is a gorgeous light red.  Much darker than the more typical "pink" rosé I am used to and much more complex.  On the nose I definitely get strawberries.  It is light and slightly sweet with raspberry and strawberry flavors.  After reviewing the tasting notes I can also taste the hint of orange blossom that is described.  This was my favorite of the two wines.  I love that it is a different style than the rosé I normally drink.  The 2009 vintage is now available and is listed as being similar in style to the 2008.
All of Charity Case wines are available for purchase on their website www.charitycase.org.  They are very affordable at $12.00 per bottle.  A new edition Chardonnay 2010  has been recently released and is $18.00.
Even though I received free samples of the above wines from Charity Case, it in no way sways my review of these wines.  I applaud their efforts and wish more people in all industries would do more for those in need especially given our current economic crisis.