This past August my boyfriend Andrzej and I were finally able to take a trip to California and tour Napa Valley.  I decided to tack the trip onto my Vegas business trip so we would have three full days of tasting to do.  Not a huge amount of time but enough to visit quite a few vineyards on my list and it gives us an excuse to keep going back.  Prior to our trip I consulted with my Opus Vino book, friends, and co-workers and began to map out the wineries and tasting rooms I wanted to visit.  From touring Long Island I knew we would only be able to hit 5-6 wineries per day so as to not overdo it.  I only chose wineries where you didn't have to make an appointment.  I wanted to be on our own schedule and not have to rush and watch the clock all day.
Day 1
Plumpjack was recommended to me by a very good friend who loves their wines.  I had heard only great things about their quality and since their wines are higher in price than the majority of what I normally buy and write about, visiting is an excellent way to get acquainted.  We sampled a flight of five wines the highlights of which were the Chardonnay, Cabernet Sauvignon, and Syrah.  The trip was off to a great start!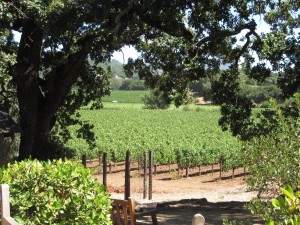 Peju (Rutherford)
Our second stop was also due to a recommendation from a vendor of mine.  He raves about Peju and served their wines at his wedding.  We were guided through our flight by Alan who was very knowledgeable but made the tasting very entertaining as he "rapped" about the different wines they produce.  I really enjoyed the Provence and the Cabernet Sauvignon.  The grounds are very pretty and there is a cute gift shop you can browse in before or after your tasting.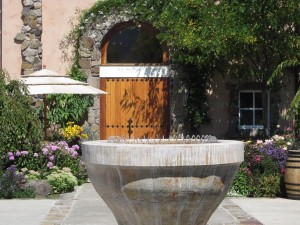 Sterling Vineyards (Calistoga)
I made sure to add Sterling to our itinerary.  Even though their wines are readily available almost anywhere, the tasting room is perched on a hilltop and is accessible by a gondola ride.  Once up top you walk through the facility and get your wine samples at different stations around the property.  It is a genius format so that you can learn and sip as  you go.  The views from the terrace are stunning and great for photo ops.  The tasting flight was of five wines.  I particularly enjoyed the Cellar Club Riesling and the Cellar Club Malvasia Bianca which was a dessert wine.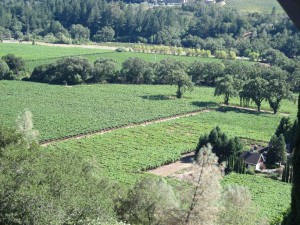 Castello di Amorosa (Calistoga)
From the top of Sterling you can see Castello di Amorosa down the road.  It is a replica of a medieval European castle built by Dario Sattui.  This winery features Italian style wines.  I initially didn't want to stop here as I thought it would be too "touristy" and that the wines wouldn't be all that good.  I am happy to say that this was not the case.  With the purchase of your tasting you can tour the entire castle and grounds.  The tasting is done in the cellar that also houses an incredible gift shop offering all kinds of cool medieval themed items as well as all things wine.  We enjoyed all of the wines that we tasted here.  The stand outs for me were the Fantasy red, Sangiovese, and the  sweet Gewurtztraminer.  Since these wines are only available at the castle I ended up placing an order to ship home.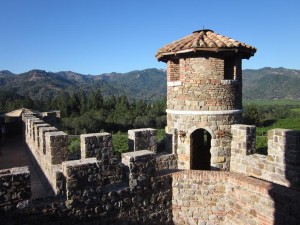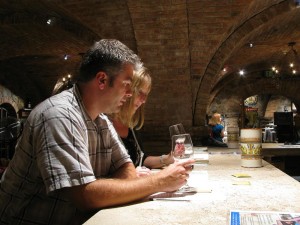 With our first day of tasting at an end we headed to Morimoto for dinner.  I cannot say enough about this restaurant.  Of course how could it be bad when an Iron Chef owns it?  For appetizers we had the pork gyoza with bacon foam and the rock shrimp tempura.  I am still dreaming of the rock shrimp tempura and it is one of the best things I have ever eaten!  My entree was Alaskan halibut with ginger and for dessert we had the trio of ice cream sandwiches.  Definitely a meal I won't ever forget!
Day 2
Turnbull Wine Cellars (Oakville)
We began our second day at Turnbull Wine Cellars.  This was a quick visit but we got a nice overview of their wines.  I recommend their Merlot, Cabernet Sauvignon, and Syrah.
While we were in Las Vegas we had dinner at my all time favorite restaurant Prime in the Bellagio Hotel.  To pair with our steaks we ordered a bottle of Franciscan Merlot and we loved it.   I had to add the winery to my list for our trip.  This winery makes some excellent wines and I loved my tasting flight.  The Rose 2010 and the Clos Reserve were amazing but my favorite was the Fountain Court named for the fountain out front.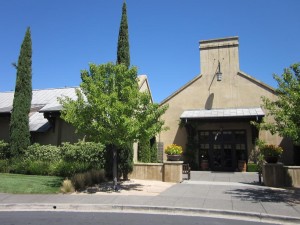 St. Clement (St. Helena)
This winery is located in a beautiful restored Victorian home surrounded by pretty landscaped grounds.  The front porch is very welcoming and the decor inside is full of old fashioned charm.  Again on offer was a flight consisting of five wines mainly red varietals.  Highlights of this winery are the "Napa Valley" Chardonnay (Carneros), "Napa Valley" Cabernet Sauvignon, and the Oroppas.  The Oroppas is a blend created with grapes from six appellations in Napa and is rated 90 points by Robert Parker Jr.  All were very consistent and excellent quality wines that I would purchase in the future.  There is also a patio on the property to enjoy your wines and live music on the weekends.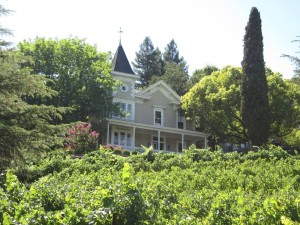 Rombauer Vineyards (St. Helena)
Rombauer was recommended to me by several co-workers who raved about their Zinfandel.  Since Andrzej isn't a huge Zin fan I chose a flight for us to share that had other varietals.  My favorites were the 2006 Diamond Selection Cabernet Sauvignon and the 2010 Carneros Chardonnay.  I can't say enough about the Chardonnay.  Definitely one of the best I have tasted so far and I went on to purchase a bottle to drink on the trip.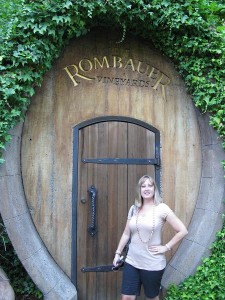 Chimney Rock (Napa)
This was another quick stop as we were getting tired after a  long day of sampling.  We were under the gun as the wineries were about to close.  We were able to squeeze in a tasting here and we were very impressed with what it had to offer.  The best wines of this tasting were the 2010 Rose of Cabernet Franc, the 2006 Terlato Cabernet, and the 2007 Terlato Galaxy.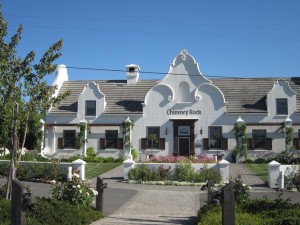 After a quick rest at the hotel we headed to Yountville for dinner at Pacific Blues Cafe.   Very quaint and not expensive we had a very good dinner.  The chicken tortilla soup was very satisfying.  I loved the blue burger with blue cheese and jalapeno jelly, while Andrzej enjoyed a huge pork chop with mango salsa and garlic fries.  A perfect ending to our second day in Napa.
Day 3
Our last day was the most special because we had friends drive up from San Fransisco to join us.
Stag's Leap Wine Cellars (Napa)
It is very easy for people to become confused as there are two wineries with the name Stags Leap and they are on the same road not that far away from each other.  I chose this one since we weren't required to have an appointment.  I hate to write anything negative but this was the winery that disappointed me the most.  Even after we were there early right after they opened it took forever for someone to bring out our glasses and menu to choose the tasting. The staff was also less than enthusiastic while explaining the wines in the tasting.  I chose the Napa Valley Collection Tasting flight of four wines.  While none of them were what I would consider bad wines I wasn't wowed either.  The 2007 Artemis Cabernet Sauvignon was the best of the four.  I would not go back to this winery again but would check out the it's neighbor of the same name to compare.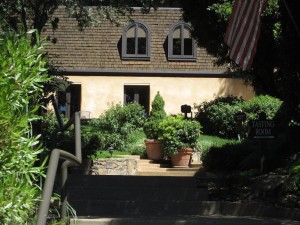 Clos Du Val (Napa)
One of my favorites of the entire trip!  I cannot say enough about these wines.  Everything we had we loved.  We were given samples of wines that weren't on the tasting and you could say we were hooked.  Enough so that we as well as our friends joined their wine club.  Our favorites were the 2008 Cabernet Franc Napa Valley, 2006 Cabernet Sauvignon Stags Leap District, and the special tasting of the 2000 Reserve Cabernet Sauvignon.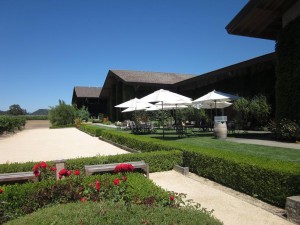 Pine Ridge Vineyards (Stags Leap)
Another spur of the moment stop that wasn't planned but turned out to be well worth our time.  They have a very cool wine vault that you can explore and the tasting was very relaxed and informative.  Our tasting was again of five wines and while they were all good I gave stars to four of them.  The 2008 Dijon Clones Chardonnay, 2007 Napa Valley Cabernet Sauvignon, 2007 Onyx, and 2007 Fortis were all excellent.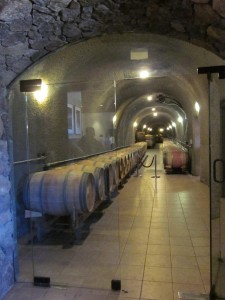 V. Sattui (St. Helena)
I would nickname this the party winery.  Known for it's picnic grounds that is exactly why we went there.  This winery has a huge on site deli with all kinds of food including an incredible selection of cheeses and meat.  Our friends purchased a bottle of Cabernet Sauvignon and we relaxed with our goodies on a picnic table under the shade of the trees.  V. Sattui was very crowded partly due to the BBQ they serve on the weekends.  The atmosphere was great and the food and wine were worth stopping for.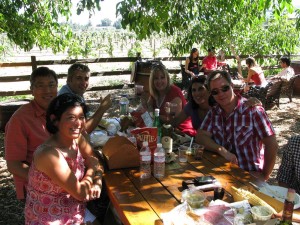 Domaine Chandon (Yountville)
If you love bubbly like I do then you must visit Domaine Chandon.  This winery features pretty scenic grounds and indoor or outdoor tasting bars as well as an on site restaurant.  You can choose from four different tasting menus that vary by price.  My choice was the Reserve tasting that featured Reserve Chardonnay Brut, Reserve Pinot Noir Brut, and Reserve Pinot Noir Rose.  We all picked different tastings and everyone was happy with the wines.
I saved the best for last!  I read about Ma(i)sonry tasting room because I was interested in trying wines from Blackbird Vineyards.  The tasting room is housed in a charming stone building that is also an art gallery with an outdoor garden with plenty of intimate seating.  The Blackbird tasting consisted of five of their wines and I was completely blown away.  These are now some of my all time favorite wines.  The 2010 Arriviste Rose is one of the top rated Rose's in California.  The 2009 Arise is a great, everyday drinking wine.  My two favorites were the 2008 Illustration and the 2008 Contrarian.  I ended up placing a nice order while I was there but then ordered more when I returned home.  Though the majority of these wines are more than my budget normally allows for wine they are well worth splurging on.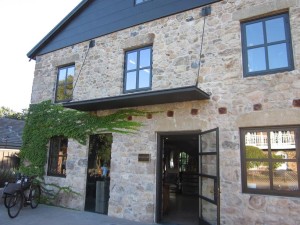 This marked the end of our time in Napa and though I was sad to leave I think I could have only done one more day of tasting before I would need a break.  I look forward to visiting Napa again in the near future and have discovered that when in doubt you can't go wrong with many of the wines from this region.