Last week I dined at Le Bernardin,  one of the top five restaurants in NYC and one of only a select few to be awarded three Michelin stars.  For foodies everywhere this is culinary heaven and the epitome of fine dining in the Big Apple.  I was given the wine list which was quite literally a book-pages upon pages of every varietal you could imagine.  Being that Le Bernardin is known for their fish and seafood dishes I knew it would be quite a challenge to select wines that would not only please the six other guests at the table  but would also complement every-one's meals, especially when everyone agreed they wanted red wine only.  My two picks for the evening were both Pinot Noir from the West Coast.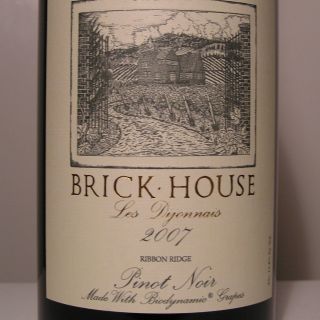 Our first selection was Brick House Les Dijonnais Pinot Noir 2007 from the Willamette Valley.  This wine was very light red in the glass, so much so it had a pretty dark pink hue at the edges.  The aroma was of sweet red berries which led into  flavors of strawberries and raspberries.  A slight spiciness was detected on the back end of each sip.  This pinot is 13.4% alcohol and had pleasing acidity which led to a long and crisp finish.  It didn't overpower my starter choices of smoked salmon topped with caviar and salted cod salad with white gazpacho sauce.  This wine retails for under $40 and has been rated 92 points by Robert Parker. Also try their Select Pinot Noir which is also a great value.

The second Pinot Noir was Lynmar Estate 2006 from the Russian River Valley.  This was my favorite of the two.  Darker ruby in color, it had more body and more intense aroma and flavor.  The nose was earthier with cherries and strawberries.  There was a higher concentration of  fruit flavors with more pronounced spiciness,  but overall it was extremely well balanced.  This pinot noir is slightly higher in alcohol at 14.4% and is available for under $45 in stores.  My main course was served with this wine-black bass with a sauce of ham and green peppercorns.  The combination of the sauce with the wine seems a bit unconventional but the wine didn't detract from it at all.
Pinot Noir proves to be an extremely versatile red wine that can work for any occasion and can compliment almost any dish.  Oregon is becoming  a top producing region with most wineries using sustainable methods of production and organic grapes.