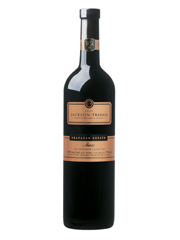 I was fortunate enough to travel to Vancouver for the 2010 Olympic Games. It was truly an experience that I will never forget. The excitement and positive energy of the city was amazing not to mention it's picturesque beauty of the skyline set against the mountain backdrop. On Valentine's Day we had dinner at
Five Sails
restaurant located in Canada Place. I selected a bottle of
Jackson-Triggs
Proprietor's Grand Reserve Shiraz 2006 from the Okanagan Valley in British Columbia. This full bodied wine was deep purple in the glass and we noticed black pepper and a chocolate aromas. Flavors of red cherry, currant, chocolate, vanilla, and spices were present on the palate. I found this wine to be perfectly balanced with a long, smooth finish. It is 14.3% alcohol and is fermented in both French and American oak barrels giving the wine mild tannins. This shiraz went very well with all of our meals. Five Sails is currently offering their special Olympic menu. My delicious dinner consisted of Austrian style ravoli filled with spinach and ricotta cheese with a hazelnut brown butter and arctic char with a creamy sauce of mushrooms and root vegetables. For dessert a decadent Valhrona opera cake perfect for the Valentine's Day holiday. This was a wonderful dinner with a gorgeous view of the Olympic rings and a fabulous bottle of wine.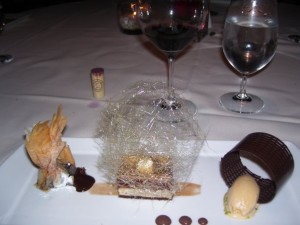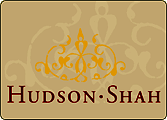 I must also comment on a white wine I had while stopping in Seattle on my way north. Hudson Shah reisling was just what I needed after a very long flight from the east coast. Hudson Shah is produced in Washington State and is made of 100% reisling. It was straw yellow in color and had hints of honeysuckle and pear on the nose. Peach and pear flavors were nicely refreshing combined with mineral notes and pleasing acidity. This wine is available for under $11 in Washington State at retail and is also available at many high end restaurants in select cities including many of my favorites here in NYC.
So far I am extremely impressed with the wines I have tried from this region. I am really looking forward to my next trip and to trying more wines that BC and Washington have to offer.