This holiday season I visited Bar Veloce in Chelsea for pre-holiday party drinks and a quick bite.  Located on 7th Avenue between 20th and 21st streets in NYC this wine bar is one of several locations that is cozy and always crowded.  Each location's wine list features a specific region.  The Chelsea bar is all Italian wines and the food is primarily specialty paninis.  You can also get wine bar staples such as olives, bruschetta,  and a great cheese plate of chef's selections.  While on this excursion I had a terrific gerwurtztraminer and a glass of prosecco.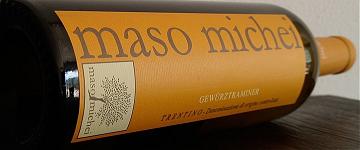 Maso Michei Gewurtztraminer 2007 (Trentino) is one truly great white wine.  Produced in Northern Italy close to the Swiss border it has a clear gold color in the glass.  It is perfectly balanced and crisp.  This white is full of flavor with peaches and light citrus.  I was going to write about a different Gewurtztraminerthat I had the week prior but this one blew the other away.  It pairs well with most foods especially white meats.

When I want to drink something lighter than red wine and am not in the mood for mixed drinks I always go for a sparkling glass of Prosecco.  Bar Veloce features Prosecco Zardetto MV (Veneto) by the glass.  I love the way the bubbles float to the top of the glass and dance across your tongue with each sip.  This Prosecco has a honey and floral aroma.  It has a pale yellow color and tastes of apples with a hint of  lemon.  It has a great acidity and a long, clean finish.  Both of these were great choices and went well with the paninis that were ordered.  I highly recommend the prosciutto, mushroom, and truffle oil panini.  The food is reasonably priced and most wines are less than $12 per glass.  All in all an absolutely delicious visit!  Zardetto Prosecco can be found online for less than $20 a bottle and is perfect for every festive occasion!