On Saturday I attended the Microbrew Beer and Wine Tasting at Hunter Mountain.  The air was brisk and the leaves were just beginning to change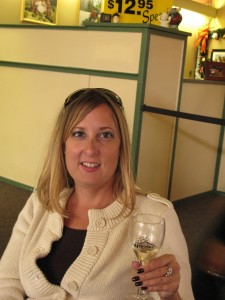 color providing a gorgeous backdrop for a day of tasting.  The guys headed straight for the beer taps while I went on to see what the area wineries had to offer.  Most were featuring fruit flavor based wines such as pear or blueberry but what I was looking for was a great tasting red.  This I found very early on in the day at a brand new winery Premium Wines located on the North Fork of Long Island.  The Pumphouse Red 2007 is a blend of merlot (84%), cabernet sauvignon, cabernet franc, petit verdot, and 2% syrah.  Its full bodied and extremely easy to drink with concentrated fruit flavor and soft tannins.
The second standout was their Suhru Shiraz Rose 2008.  If you love Rose this is a wine you absolutely must try.  A perfect blend of shiraz (84%), cabernet franc, reisling, chardonnay, and petit verdot.  This wine has a distinct grapefruit flavor that is crisp and refreshing with mild acidity and has a gorgeous light red color.  I can't wait to open a bottle of this Rose while boating on the Hudson next summer-a perfect wine on a hot summer day!